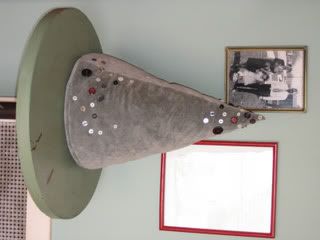 This is the first Xmas away from Utah in years. J and I decided to stay in Phoenix this year, what with air travel being so unpleasant and pricey, and we're sort of at a festivity impass. Neither of us really are attached to the holiday, but we like it sorta. With this half-assed enthusiasm in mind, I threw together a couple things to dress up the living room. Above, is the "tree." It's made of left over upholstery velvet (from the couch) and buttons collected from years of disliking to sew on missing buttons.
My family has two beloved traditions for 12/25. The first is fruit soup, a heady concoction of fruit and spices that I've found other people who weren't raised adoring it simply can't stomach. The other is stockings stuffed with little items, with the toe of the stocking plumped with the ever present orange. I wasn't going to convince J to consume fruit soup with me, lord knows he's politely declined it countless times in the past, so I whipped up a stocking for him. The stocking is the foot of a giant stuff dog, which was previously eviscerated and plundered for stuffing and fabric for
various other projects

. I stitched his name onto the top, using letters taken from various other scraps in the ever growing pile of scrap fabric.