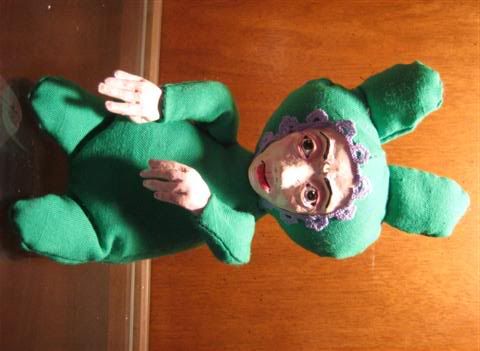 Having finally finished the assignment I gave myself one year ago, I now have a series of exhibits displaying the evidence of completion to look forward to. Cheap wine makes everything rosy.
It hasn't exactly been a year, so I sort of cheated. Cheaters are also what Marilyn Monroe calls spectacles in "How to Marry a Millionaire", and I have new ones. New "cheaters," not new millionaires. My eyesite has gotten worse, but my new glasses make me feel likeI can see through walls.
The first one is next week at the Kayo Gallery in Salt Lake City. The denizens of SLC will be the first lucky enough to see this series, followed by the sweaty masses of Phoenix. One of the dolls was briefly featured on Juxtapoz, which sent me into flurries of excitement. I've already sold enough to cover the cost of the trip (that is, one doll) so thanks to Mr. Warren Jeffs and my friends who are willing to let me stay rent free at their home for a week.
Now I just need to get the scratch together for a trip to see Matthew Barney's upcoming exhibit in San Francisco.